Rally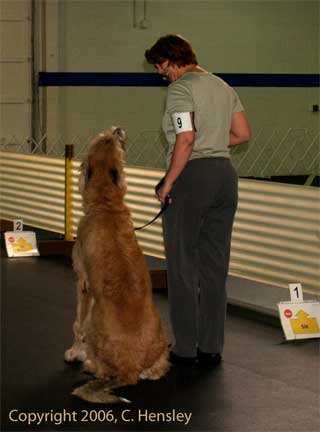 Cari writes: Rally is a new obedience sport in which dog and handler go through a course, follow the various obedience directions on a sign, and then proceed to the next sign. The score is based on performance with ties broken by speed. This is a sport made for wolfhounds - faster paced, less precise, and allowing for much more interaction between handler and dog.
Although I watch my puppies wilt in traditional obedience, Rally seems to have been made for them. It is a joy to watch their faces light up and jump around with excitement when they see me grab their "special" collars. Of course, they are not goldens so they still need a different approach (yea clicker training) and sometimes they shut down due to the distractions, but when they are "with" you it is a magical feeling.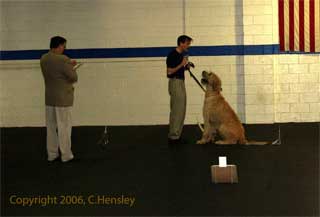 The dog club put in their newsletter about our last show: Two well-trained Irish Wolfhounds tiptoed through the petite course and qualified with handlers Carissa Hensley (with Ruairi) and Douglas Hensley (with Roisin). (course they called her Raisin . . . LOL!)
Conformation
Finian and Riona have started showing in conformation. Finian,who started first,has 5 points.